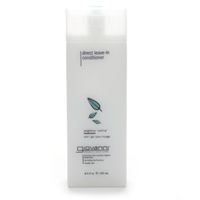 very moisturizing, natural is the best

I really like this product. Not just b/c it's a natural conditioner, or b/c it's affordable, I like it b/c it holds moisture into my hair. I have natural, average to fine hair and it does not way it down or make it sticky. I use it when I've been in the sun so my hair doesn't dry out and break. Overall, a great product, I will continue to purchase.

Fab Leave-In

This is a fabulous leave-in. I love the Giovanni line anyhow, they are a bit pricey but the organic ingredients and quality of the line make them worth it. I used to use this when I had long hair and it left my hair so soft and helped my keep away tangles. Now that my hair is short it is a bit too much for it, but I still recommend it to my friends that have dry or long hair.

Works Great

This leave-in conditioner is light. It works on my fine hair and it also works great to get the tangles out of hair. The scent is light, which is a plus.

Back
to top