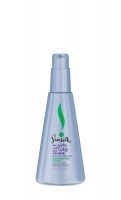 to paisleylys

I LIVE IN FLORIDA, DOESN'T GET MUCH MORE HUMID THAN IT DOES HERE. I HAD THE FRIZZ PROBLEM WHEN I USED A BRUSH ON MY HAIR, BUT NOW THAT I ONLY USE A COMB I DON'T HAVE A PROBLEM WITH FRIZZ. MY HAIR IS BELOW MY SHOULDERS AND THE COMB WORKS GREAT. TRY IT.

Works, but smells bad

I put this on my wet hair before I use the diffuser, as well as at the end of my hair when I'm finished styling. It works really well. I was surprised at how much more I liked this than the Garnier Fructis Gel-Cream that I had been using. It does have a strong chemical smell, so I don't like putting it on. Once it's in my hair, though, I don't notice the smell anymore. I hope other people don't smell it either.

Ok Curls, but still frizz

I have pretty heavy, frizzy wavy/curly hair. Weather I use a little or a lot of this product, I just can't seem to be completely frizz free, which is a bummer in my humid area. My waves look a little curlier but it would be nicer if they weren't enveloped by frizz.

Back
to top