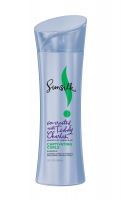 De-Frizz for a few hours

I bought this shampoo and matching conditioner without reading the description carefully. All I saw was "De-Frizz", but this product is actually for frizz-prone waves or curls. I have straight hair with frizz problem. I still wanted to try so I did not return it. The performance is just like any decent drugstore shampoo with afforable prices. My hair becomes soft, smooth and shiny, but w...read morehat I dislike about this shampoo is that it leaves strange scent in my hair. Not too refreshing or clean scent but it is more like coming from old weak perfume. Also, the soft-smooth and shiny effects are not long lasting. BTW, I think now this Sunsilk line is called "Captivating Curls" so that someone like me would not think this is for any frizzy hair.

Decent

It seems like it can be a good shampoo. It makes a nice, think lather that helps build curls (I have naturally wavy, not curly hair). The smell is good, but be sure to pair it up with a good quality curly hair conditioner or at least a good moisturizing conditioner. This may make for nice curls. I doubt I would buy it again, but it is decent enough to use and not get exiled to the lousy product bin.

The only thing good about it is the smell

This the conditioner and the leave in frizz creme left my hair in a dry and VERY VERY rough state. My hair was soooo dried out that just touching it made my scalp burn. I had to talk to my sister who does hair and she told me that this line is not good for women of color b/c its more for women with oily hair since it has a drying agent in it. NEVER NEVER again. The next time my hands will lay on this product is when im throwing it away.

Back
to top