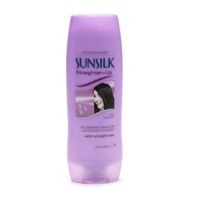 Straighten-Up

Among all the Sunsilk collection, this Straighten-Up line works the best for my hair. As always, I match the same brand shampoo and conditioner. This conditioner makes my hair soft, smooth, and easier to comb through. The silkiness seems to help my hair looking even straighter and less frizzy without weighing down too much. I think the conditioner's performance is better than the shampoo's. Unfort...read moreunately, it is a bit perfumey. BTW, I also purchased their Straighten-Up Cream, but I like my hair without the cream because it smells too strong and a bit sticky.

Deliciousness in a bottle

I have 4c hair and i always want to wear my hair straight but i don't like adding extra heat like blow drying it before I flat iron. I had this lying around my house so i'd thought I should give it a try. It surprised me it did not get my hair completely straight due to my naturally coarse hair, but it got straight enough to do only one pass with the flat iron on a medium setting. I can't wait to use it again.

Reminds me of "Gee Your Hair Smells Terrific"

Fragrance junkies will like this! I have fine hair but needed something to control flyaways. This conditioner makes my hair very soft and shiny, and actully makes it look like it has more body. The smell is great, but you have to like strong scents to like this. Avoid this product if you are sensitive to fragrances. My nieces are in love with this product and took mine home so I had to replac...read moree it. I don't see any super moisterizing ingredients other than hydrolyzed elastin, vitamin E and betaine, but it seems to work better than some of my salon products.

Back
to top