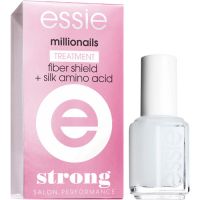 Essie Millionails Nail Care Treatment
As low as
million nails

is exactly what it used to be ... high end. if you think about the product quality you do get a lot.

If you want long nails . . .

This was the "find" of my life (nails life). This is called the first step, but plan to stay on this step for several months. It is worth the price; it's going to be much more expensive later. I find the best way to use it is to "change" it on Wednesdays. All of the strengthener will not come off. In a few weeks (don't rush it) you will have stronger, longer nails. It is easy ...read moreto use, and works well as a base coat before color, or a top coat after color. I let it build up for a week, then use a non-acetone product to remove the buildup. It's simply wonderful!

Back
to top