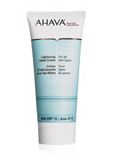 Ahava Lightening Hand Cream with SPF 12
As low as
a wonderful multi-tasking hand cream

i generally only remember to put on handcream when i get in the car and since i had recently noticed a ffew age spots creeping (or is that creping) up on the back of my hands, it figured it was time to give my hands the same attention i give my face in terms of SPF. i looked around for some time for a product that would (a) moisturize, (b) provide adequate full spectrum sun protection, and (c) h...read moreelp reduce the discoloration i've already gotten. i was very pleased with the price point of this product as well as all of it's features. a word of caution though, it is not the most moisturizing of hand creams, but since i used it while driving, this may not be sooooo bad.

Only Tried It Because....

I know Ahava makes some great products. It seemed like a stretch to pay for it at the time..But It did do a good job of lightening the marks on my hands. I work in a bank, and with all the safes and metal, your hands get beat up pretty bad. But this helped somewhat.

Back
to top