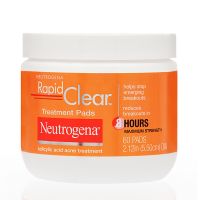 Happy girl with small pores!

I have decent sized proes thanks to my genetics, however I noticed lately they seemed to be a little large then I was comfortable with. I figured I would give something other then the Clinique Acne "Toner" I've been using, a try. I'm glad I decided on this. My skin feels soooo clean and fresh after using these little wonders. I had some breakouts spreading across my face and since us...read moreing these, I've noticed they're going away. I can see where these would be a bit harsh if you have sensitive skin, however if you have oily skin that loves microdermabrasion, like mine, you might want to consider giving this a try!

Overdrying

I found this product a bit on the strong side. To use it, I think you'll have to swipe swiftly so the product doesn't overabsorb into the skin and dry. After a week of using this product, because it is salicylic acid, it does exfoliate and it made my fingertips and some facial areas dry and flaky. It's alright to use once in a while but constant usage of this will have that scaly effect on the skin.

Exclusively from the editors at Total Beauty

Get the Buying Guide to see these top-rated products!

Get it now »

Good product.

These pads are easy to use. The scent is a little strong and tends to linger, but it's not that unpleasant. I'm starting to try these on my arms to see if they help with my KP...will update after a while to say if they helped or not but so far it looks promising.

Back
to top