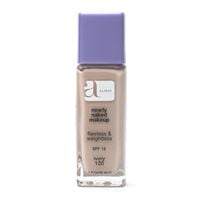 Meh

This felt like a greasy mess and I have normal skin leaning towards dry. It settled in lines and pores and I looked like a hot mess. Just my experience :/ the colors weren't bad though

Really nice foundation!

I've been using this foundation for at least 5 years and even though I try others (guess I'm a makeup flirt), I keep coming back to this one. I love the way it goes on, smoothly, with either a sponge or your fingers. It has good staying power, and lasts most of the day, especially if you set it with a light dusting of powder. The colors are true, and the lightest is good for me, even with my fair ...read moreskin. Also, the price is good for the long-lasting bottle. I'd really put this up against any other drugstore foundation, and even some of the department store so-called 'high-end' brands. Why spend the extra bucks if you don't have to?

decent foundation

I have a habit of buying recently discontinued products at discounted prices. That's how I got Almay's recently discontinued brand. It is light weight and does a decent job of smoothing texture. Obviously it doesn't cover zits or under eye circles since its marketed as a lighter make up base so you still need a concealer with it. However it is a solid base and I'm sorry they are discontinuing it.