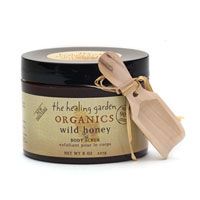 Pricey and alrighty

Yes, this scrub will leave your skin soft. The smell isn't my favorite but it isn't completely unpleasant either. I enjoy using scrubs because they exfoliate and generally the oil is left behind onthe skin to result in lasting hydration, long after the shower. I have tried many different scrubs and I think that there are better scrubs out there than this one. I would say that this one is medioc...read morere. And for quantity for the price is not worth it. I enjoy the tree hut scrubs that you can find at walmart for half the price. This scrub does a basic job and would probably be a good gift for someone, but for me personally, I could MAKE a better scrub than this at home with sweet almond oil and kosher salt for a fraction of the cost.

So Soft

This left my skin super soft and love the light fragrance

try it, you'll love it

It's organic, inexpensive, smells good, works great. What else could you ask for? Seriously, why pay $20 or much more for a "special" scrub that you'll just wash off, and if it lingers will probably just clash with your perfume? I just wish I knew the recipe, I'd make it myself!

Back
to top