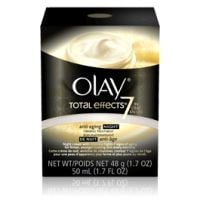 Great moisturizer you can get for cheap now!

Olay's line is amazing and this is a bit older its still amazing. The cream is super thick and creamy and very good for dry skin!

Wonderful. No need for expensive creams.

I needed a night cream and didn't want to spend a fortune. I have very sensitive skin with Rosacea so I was nervous but I must say I am VERY pleased with this product. It was not only cheap, but it felt soft and smooth on my skin. No burning. No irritation. And I woke up with beautiful skin. Really. I'm very impressed.

Olay Total Night Cream

I also have Rosacea and sensitive skin. Over all, Olay has affordable,high quality products.

Back
to top