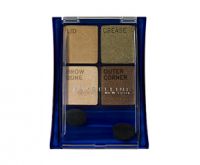 "Expert" is a Perfect Adjective!

I have an addiction to Christian Dior eye shadows--unfortunately, I can't always afford the palettes I want. Maybelline does a tremendous job with their "Expert Wear Eye Shadow Quads." The colors are beautifully complementary. They are well pigmented and apply effortlessly. And they're still on your eyes, looking good, at the end of a very long day when you're ready to pass out. Great product!

Eye Shadow Quads

I bought the purples because I have green eyes and purple makes them pop. I love these shadows. They are highly saturated, go on smoothly, don't smudge or smear and last.

EH

Maybelline should put more effort into these. They usually only have one really good shade, and then 3 just as filler, but you have to buy the quad to get the one, as it is usually a limited color not sold as a single. Not a good value.

Back
to top