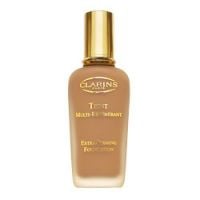 Excellent coverage

This foundation was suggested to me by a Clarins rep as I had been using True Illusion? I think its called, also a Clarins product. In the past I have found firming products make me uncomfortble and seem wierd. I agreed to try it for 4-5 days and I was mpressed, its not your typical full coverage that you see where you ook i the mirror and are like "who is that". I found it a little thick bit w...read moreas ok once I learnd to work with it an apply with a brush. I like it bit still return to the lighter formula I used from time to time,this is a geat product for the winter months as it foes protect the skin as well. Clarins make good products and I have rarely tried one I didnt like.

Best 'mature woman's makeup' under the sun!

Since my 50th birthday I have used Clarins Extra Firming Foundation. I have used an eclectic range of skincare products and color cosmetis but remain totally faithful to my Clarins Foundation. I will skimp on other things when my budget is tight but this product is so good for my maturing skin. It firms yet is still natural and with a little warmth or sunlight provides a lovely sheen and glow...read more. Certainly at age 62 looking after myself is a fulltime job, but this foundation makes it easier! Love it! A 'no brainer' for women over 50.

Clarin extra-firming foundation is perfect for my over-50 skin

Now that I'm in my 50's, I need a foundation that is not too heavy but holds onto my skin, keeping a firm look throughout my busy day. The quality is as good as any other foundation I have used.