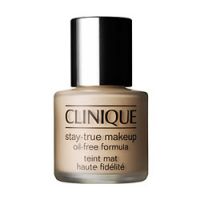 Fabulous

I always stayed away from Clinique products because I thought they looked a little *mature* for my age. After years of hearing positive reviews and being in need of a full coverage foundation I finally caved in and purchased this in "Stay Light". This foundation has the most coverage I have ever gotten from any liquid or powder. This stuff is more like a concealer to me! The color is kind of dark ...read moreso I like to mix it with my moisturizer and use a stippling brush when applying. Not the most blendable formula and can feel mask-like if you apply too much. Dries very quickly and does not rub off onto my Hubby's clothes when we cuddle. I happen to love the packaging on this even though it is not the best for dispensing product it is so chic! I love it when things come in glass because plastic contains all these weird chemicals. The price on this foundation is totally worth it and I will definitely be trying out more Clinique products like this soon!

A High-Quality Foundation that lives up to its claims!

This foundation provides medium to full coverage, keeps the face fairly matte all day, and doesn't change color either. It is of high quality and I have no dislikes when it comes to this product all!

Could you ask for more?

Great product!!! It has a good coverage and it doesn't make my skin oily. It gives a natural finish. Could you ask for more?? I must say it's for oily skins so if you have a dry skin this foundation may not suite you. You should try one that moisturizes more. A bad thing is the packaging. It's semi-fluid so the foundation doesn't flow from the bottle. If you want to use it you should put it upside down and hit gently the bottom of the bottle.