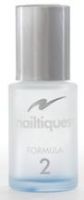 improved my nails

i had little bumps in my nails and they fixed my vitamin deficiency. no more bumps

no real difference

I have weak nails that tend to peel easily. I also wash my hands often, give that I work with small children and don't want to catch every cold they bring to school every day, do this also weakens my nails. I'd heard great things about this product, so gave it a try. For me it turned out to be just an expensive clear nail polish. It looked nice on, but I really didn't notice any improvements in my nails when I was using it.

helped my brittle nails

I used to have very strong nails but Shellac manicure damaged my nails pretty badly. I know some of you have very good results with Shellac but unfortunately my experience is horrible although I did everything they suggest to remove the Shellac nail polish. even after professionally removed, my nails still were damaged. I got this in a trial size in one of my beauty boxes and I tried it immediatel...read morey. So far, so good. Definetely better than Sallay Hansen products. Make sure that you only use one coat each day. I have never tried it on a nail polish, I only used it on my bare nails, so I cannot comment how it will effect your nail polish.

Back
to top