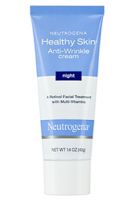 I Suddenly Cannot Find This ANYWHERE!?

Neutrogena Healthy Skin Anti-Wrinkle Cream (daytime) is my MUST-HAVE moisturizer/anti-aging staple. But I suddenly can't find it here in any local drugstores in Connecticut. Please don't tell me that it's been discontinued! I've been using this fantastic product for YEARS and it's been amazing. I'm 40 and look ten+ years younger. Does anyone know if it's been discontinued? Thanks!

Beautiful Skin!

I heard that retinol is good for your skin and I decided to give it a try. I have been using it for a few months and my skin looks and feels younger.

It just works!

This has smoothed bumpiness and softened some fine lines after only a couple of weeks of use. I am working my way up to using it every night on my sensitive skin. I could not use even the weakest version of prescription retinol (it felt like an intense sunburn), but am happy to say that my skin is tolerating this well. I am just careful to wait to apply it at least 20 minutes after cleansing, which helps...just so happy I can finally use retinol, and the low price is great!

Back
to top