Recent Celebrity Break Ups and Marriages
Posted on January 3, 2011, 1:31 PM
The last few weeks of 2010 (and first couple of days of 2011) were very busy ones for Hollywood couples including Mila Kunis who had an amazing makeup look in "Black Swan"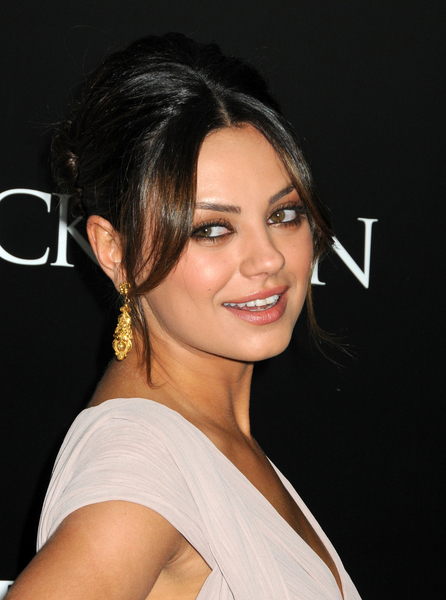 She may have a hit movie with "Black Swan" but Mila Kunis is flying solo
Breaking up is hard to do, especially in Hollywood, where splits, marriages, make ups and love affairs are announced in rapid succession. There are too many to count but here are some doozies that have gone down in the last couple of days.
A blink-of-a-relationship was all that was needed for
Natalie Portman to announce her pregnancy with and engagement to "Black Swan" choreographer Benjamin Millipied
, a hunk-of-a-principal dancer with the New York City Ballet. Hat tip to director Darren Aronofsky on the dramatic and visually stimulating swan-like
makeup
Portman dons for her star role, which has already garnered her a Golden Globe nomination with talk of an Oscar nod mounting with each passing day.
While Portman readies for her betrothal and impending mommidom, her "Black Swan" costar, Mila Kunis, has quietly ended her eight-year relationship with Macaulay Culkin. The two are said to remain friends.
Happier times were afoot on new year's day for country singer Shania Twain and Swiss businessman Frédéric Thiébaud as well as actress Valerie Bertinelli and financial planner Tom Vitale. Both couples welcomed 2011 by tying the knot, Twain in Puerto Rico and Bertinelli in Malibu. Bertinelli even invited ex-hubby and rocker Eddie Van Halen.
Oscar winner
Reese Witherspoon will be entering into her second union with entertainment agent, Jim Toth
. The happy couple started dating soon after Witherspoon's split from
Jake Gyllenhaal, who, of course, has recently been seen with youngling Taylor Swift
.
And, with but a few weeks to go in 2010, power couple Scarlett Johansson and Ryan Reynolds called their two-year marriage quits. It was rumored the actors' work kept them apart so they never spent time together. While some rumored that Reynold's "Green Lantern" costar Blake Lively was to blame, the couple confirmed there's no third party involved in their divorce.
Love 'em or hate 'em,
LeAnn Rimes and fiancé actor Eddie Cibrian
have been seen canoodling all over Tinseltown since announcing their engagement via Twitter. The two met while filming during Lifetime's movie "Northern Lights" and Cibrian, whose divorce from the mother of his two children, proposed with a five-carat oval diamond.
Christina Aguilera's star turn in "Burlesque" was bad news for record exec Jordan Brafman (as well as the box office) - it was while filming that the diva met production assistant Matthew Rutler and her marriage began to unravel, ending in divorce shortly before the end of the year.
But things are looking much brighter on the romantic front for another pop star as a trip to St. Lucia in the Caribbean got Justin Bieber and Selena Gomez to stop being so coy about their much-rumored romance. Photos of the two kissing on the island (and elsewhere) have sent rabid Bieber fans on a rampage against Gomez, including death threats via Twitter.
And, finally, following in Zac Efron and Vanessa Hudgens' splitsville footsteps, comes word that John Mellencamp, who's been married to gorgeous model Elaine Irwin for eighteen years, has left the marriage -- he's now hanging out with Meg Ryan whom he met on the set of his and Stephen King's upcoming Broadway musical, "Ghost Brothers of Darkland County."
What will 2011 hold for other stars? Stay tuned. It's only January 3rd!
-- Sarah McClure