Makeup
Tyra Banks' Secret to Not Aging a Day
Plus, what went into her new makeup line and how to get cheekbones to die for
Tyra Banks -- whether you know her as the drop-dead gorgeous supermodel who graced the pages of Victoria's Secret and Sports Illustrated, as the kooky host of "America's Next Top Model" (ANTM) or as the talk-show host with a big personality, everyone can agree -- Banks is a powerhouse of talent. And now, Banks is bringing her supermodel knowledge and "smizing" (Tyra speak for smiling with your eyes) beauty advice to the cosmetics world with her new makeup line, Tyra Beauty, available on HSN.
Banks took a moment out of her busy schedule to talk with us about her line, the importance of moisturizing your buttocks and whose cheekbones she covets.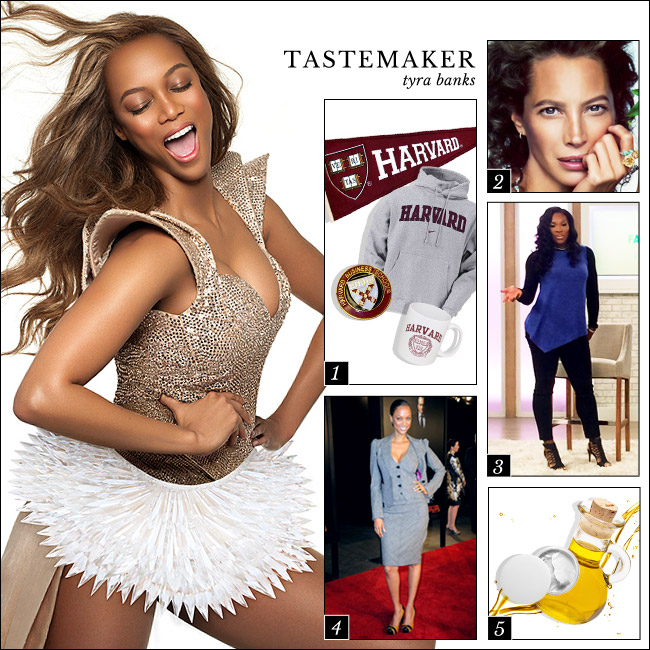 1) Total Beauty:
You have your CW show "America's Next Top Model," your new talk show "The Fab" starting next fall, and now your very own makeup line. How long has this been in the works?
Tyra Banks:
Tyra Beauty has been in the works for about four or five years now. I went to Harvard Business School three years ago and graduated from the owner/president management extension program, because I wanted this to be a legacy business. I've been asked many times over the years to do different lines -- clothing lines, shoes, hair products ... from respectable licensing companies. And with licensing, they would use my name and my image, but it's their funding and they're taking all the risks. I'm a natural businesswoman. When I was modeling, part of my success came from my look, but I think a big part of it was also my natural business savvy and strategy. So I wanted to own this and operate it and run everything myself.
2) Total Beauty:
Part of your makeup line is based on the "TYOVER Concept," products that come in stick form that you can apply quickly. What was your inspiration for that?
Tyra: When I was younger, I coveted Christy Turlington's cheekbones. I wanted them so badly, and my mom taught me how to draw them on and paint them on with makeup. That's where I got the idea for the
Sculpt in a Stick
, $24. I gravitate toward sticks and convenience. I wanted products that were going to be fast, but not just for fast's sake, for beautiful sake and for fierce sake.
3) Total Beauty:
What went into your decision to partner with HSN for your line?
Tyra:
My mom has this serious addiction to HSN. We'll just chill and watch it together. The other night, we were watching Serena Williams sell this shirt with colored sleeves for literally like two hours. I think they have this classy, high-end look for selling on TV, and I wanted to take it to the next level ... The whole idea behind my makeup line is 'Beautytainment,' where entertainment and beauty collide.
4) Total Beauty:
You're someone who really plays around with fashion and beauty. How would you describe your signature style?
Tyra:
I'm really excited now, because I don't really have to chase trends anymore. I went to Catholic school, so I grew up always wearing a uniform, and now I can just wear whatever makes me excited. So I'll wear a branded Tyra shirt with a sexy pencil skirt and some Louboutins, or I can wear my sexy Alexander McQueen suit. If "ANTM" gets another season you'll see me with this business/fashion edge.
5) Total Beauty:
Aside from putting on makeup, what do you do to feel beautiful?
Tyra:
I have this face-washing ritual. I wash my makeup off before I go to bed 99.9 percent of the time, but sometimes when I'm too tired I won't. And back in the day when I wasn't wearing non-comedogenic makeup, I'd break out, so I really feel beautiful doing the ritual of washing off my makeup. (Honestly, I feel more beautiful with makeup on, but there is something about using the right products and putting in hair oil, flossing, just taking everything off.)
I like to mix all my products. I mix these skincare cocktails, which probably isn't good. We'll probably move into skin care soon with Tyra Beauty, so I can stop mixing my own products.
6) Total Beauty:
You look like you have never aged. What are your secrets to keeping your skin looking its best?
Tyra:
I'm obsessed with moisture. I'm not afraid of oils. I think my obsession with moisturizing is one of the reasons I've held onto not looking my age. My mom taught me to lotion every part of my body right after I get out of the shower or out of the bath before your skin dries up. So the buttocks, the boobs, the back, legs ... I look like a Cirque du Soleil performer when I'm moisturizing.
7) Total Beauty:
What's next for you?
Tyra:
This company is a huge, huge undertaking. It's my life, my future -- this is my business right now. It takes a lot of time, a lot of energy, finances (It's all my own finances, no one's funding me). It takes a kick-ass team, a lot of energy from me when it's 5 a.m. and we have to get something up on the website, and I have to get people excited. It's definitely a labor of love, but it's labor. This is my baby, and it's going to be a baby for a long time until it matures.
You can shop Tyra Beauty on HSN here, or from her website here.