Makeup
Jaime King Thinks We Should be Nicer to Kim Kardashian
The model turned actress turned style star tells us her secrets for firm thighs and "cracked out eyes" and shares her take on Kim K's pregnancy bod
"Hart of Dixie" star Jaime King is one of the most vocal and passionate actresses I've ever interviewed. I probably shouldn't have been surprised, given her history posting attention-grabbing photos (like
this infamous breastfeeding pic
), on Instagram. She has a lot to say, and it's generally unfiltered (unlike the 'gram).
She opened up about some of her favorite red carpet moments, her best piece of style advice, her favorite beauty products (she has a
lot
) and what we can all do as women to treat each other -- even Kim Kardashian -- better.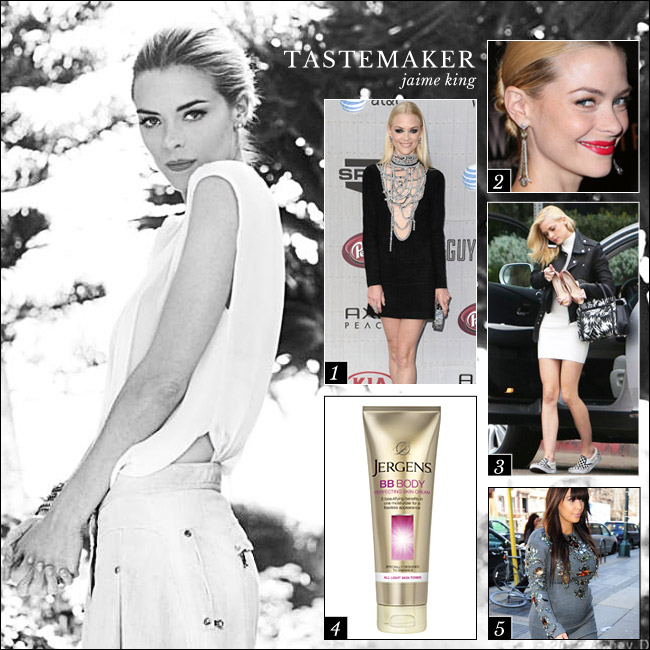 1) TB:
What's your favorite recent red carpet fashion look?
JK:
When I did the Guys' Choice Awards, I decided go to full-out sex-pot, which is the opposite of my usual version of sexy. I wore a Pucci mini cut down to my navel, and I was taped into that dress like nobody's business. I wore a sleek middle part in my hair, and what we called a "cracked out eye." It was full-throttle smoky -- we did not hold back. By keeping the hair simple and sleek, it was elegant. And since the dress had long sleeves, it balanced out the neckline.
2) TB:
How about a red carpet beauty look?
JK:
I would say Golden Globes Prabal Gurung -- the white embellished dress with the black straps. I wore it with a beautiful red lip and very intricate chignon thing that Jen Atkin did with my hair -- it was exquisite. It was chic and pulled back; she twisted it and wrapped it. And in every single picture it looked great. I felt super beautiful.
3) TB:
What's your No. 1 piece of style advice?
JK:
It's all about balance. If you're going to wear a short skirt, please wear it with long sleeves. You don't wear a red lip with a smoky eye -- it's the same thing. Or if you're going to do a super sexy outfit, go super natural with your hair.
4) TB:
What are the beauty products you can't live without?
JK:
My personal favorite is Koh Gen Doh concealer in a stick. It's like YSL Touche Eclat but with more coverage. I really love Chanel mascaras in different colors -- I like to mix the colors up because it really makes your eyes pop. I'm also a big proponent of buying products at the drugstore. Maybelline has really awesome eye pots that you can use, and they stay on for a very long time. And
Jergens BB Body
. When Patti Dubroff introduced me to it, I was over the moon. When you use it consistently, it really starts to firm your skin. It hydrates and illuminates and takes away imperfections, [and I don't have to] worry about it getting on my clothes. I don't have to wonder, "Oh, do I have self tanner on my dress?" And it doesn't matter what color skin you have -- you can use it.
5) TB:
You're very active on social media …
JK:
My hope for every woman is that we can accept each other's bodies for what they are. I was just looking through Instagram, and people were saying, "Why don't you eat?" But I also had a time when I put on 30 pounds because I was dealing with a health issue. I eat so much food, but I'm a working mom. People are so quick to judge and assume that when someone has gained weight, they must be lazy. But you don't know what their issues are or what they're going through.
I'd really like to stop this negative cycle of people criticizing each other for how they look. I want to become an advocate for women who love and support each other. Especially being a mom, I've become more passionate. Now that we have social media, people can say whatever they want and hide behind a screen.
I come from Omaha, Nebraska. If you think your comment doesn't make me feel sad or upset, you're wrong. Me being in front of a camera doesn't make me any different. It's the same as the bullying that takes place in school. They were attacking Kim Kardashian when she was pregnant, but you'd never go up to a woman on the street and say, "You're really fat." We need to stop and think.