Fashion
And We Thought We Couldn't Love Olivia Wilde Any More
See her makeup must-haves, the crazy shirt she won't retire and the golden advice she got from Halle Berry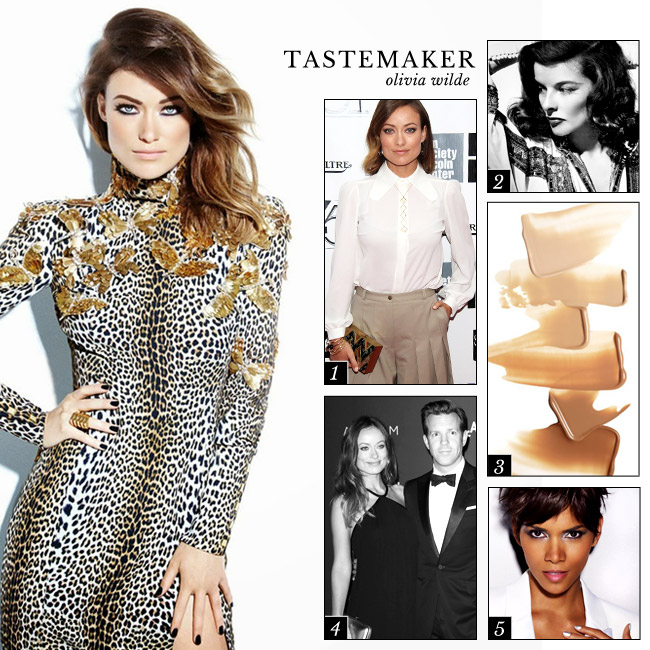 She's the girl next door
if
your neighbor happens to have supermodel good looks, a better sense of humor than Jimmy Fallon and gives the kind of life advice even your mom would love. These are the things that make Olivia Wilde a Hollywood darling -- not to mention her trendsetting fashion choices and acting chops. Follow her on the red carpet, and it's easy to see why she was tapped to be one of Revlon's spokesmodels.
After just a few minutes talking with Wilde, you'll walk away feeling like you've spent hours hanging out with your closest girlfriend. She's not afraid to crack a joke or laugh at herself, something she did often during our interview (I totally cracked up hearing her talk about her high school "old blues man" fashion phase). In fact, I wouldn't be surprised if fiancé, comedian Jason Sudeikis, goes to
her
for pointers.
The mom-to-be answered our favorite style questions, and even gave us some refreshingly positive advice on growing up.
1)
TB:
Describe your personal style in ten words or less.
OW:
Pretty eclectic. I mean it's less eclectic now, I guess I've gotten more structured. My style is pretty simple, but structured.
2)
TB:
Who is your style icon?
OW:
I have lots of style icons. They range from Katharine Hepburn to Charlotte Rampling to Bianca Jagger to Kate Moss to
Alexa Chung
. It really runs the gamut.
3)
TB:
Is there anything in your wardrobe that you refuse to throw away?
OW:
Yeah! I have a t-shirt that I got when I was in seventh grade, and it's Crazy Eddie, an electronic salesman. (Olivia straightens up and scoots closer, prepping herself for an impression that has me in hysterics.) So [in his commercials] he'd go "Crazy Eddie, his prices are INSANE-sane-sane!" I think he's in jail now for tax evasion -- his prices were a little too insane. It's this bright neon yellow t-shirt that I got when I was twelve, and now it is paper-
paper
thin and it's about to fall apart because it's made of butterfly wing dust now.
4)
TB:
What products will you never leave the house without?
OW:
Concealer, eyebrow pencil and then usually something to take my look from day to night. If you don't have the chance to go home and you just want to amp it up a little bit, maybe an eyeliner to make it look a little bit more defined, a little more dramatic. But as far as what I always want to have on me, it's usually a concealer and something for my lip; some kind of lip butter, lip balm or something.
5)
TB:
What's the best style advice you've ever received?
OW:
Know your body, and style yourself for your body. I feel like the first time my stylist looked at me and said, "you have short legs and a long torso," I was like [she takes a huge gasp and breaks into a fake, lip-quivering crying] but then I realized she was helping me out. The world of fashion magazines and all of that inspiration is great as long as you see it as just that; inspiration. It has ideas that you can apply to your life, but it's not about saying "that's the trend, I have to be that." That will never work out for you.
6)
TB:
Has your anti-aging regimen changed since working on the Revlon Age Defying Collection?
OW:
I think the words anti-aging make people feel nervous because it feels like you are trying to stave off this inevitable kind of tidal wave of something bad. If you think about it as just maintenance and health then it's more about evolving into the next best version of yourself. When we were shooting the commercial, I of course said to Halle Berry "What is your secret? How do you do it?" And she was just saying, "you really get to know yourself." And that's what I already feel. It's about discovering how you look now and how to accentuate the great things.