Makeup
New App Lets You Try On Makeup Without Having to Use Any Real Products
L'Oréal introduces a new tool that shows what you'll look like in a whole host of shades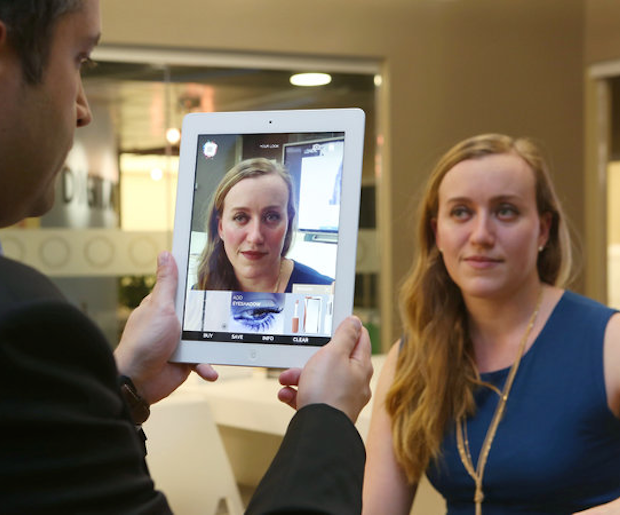 Think
you
are a makeup genius? You may soon have to put your money where your lipstick is.
Debuting today at the Cannes Film Festival (and making its way to the general public next month) from our
amies
at L'Oréal, "Makeup Genius" is a new app that, according to
The New York Times
, "Turns the front-facing iPhone and iPad camera into a makeup mirror that allows customers to virtually try on more than 300 cosmetic products and see immediately different looks or complete makeovers on their own faces."
READ: 10 Secrets I Learned at Makeup School
Sure, there's been this
sort
of technology before with hairstyle apps and the like, but Image Metrics, the brains behind Makeup Genius, have pulled out all the stops to ensure that "trying on" anything from lipstick to foundation to the always-scary blue eye shadow, will be just like the real thing -- so much so that it's being referred to as an "interactive mirror."
(To give you an idea as whether or not they're qualified, the Image Metricshh guys took home the Oscar for transforming Brad Pitt from infant to geriatric in "The Curious Case of Benjamin Button.")
This, as the Times rightly points out, is not to be confused with any of the "retouching" apps that have recently proliferated both online and in the app world. Makeup Genius is all about how L'Oréal's products will look on
your
face.
Want to try that
new double decker wing tip
with a different kind of eyeliner, no problem. Been thinking about copying Lorde's dark lip look? Go for it. Since it's virtual, there's no muss, no fuss and, better yet, no commitment -- monetary or otherwise.
And, the app works on every complexion, more than "400 lighting conditions" and is even smart enough to be able to accurately reflect how a product like a foundation will
dry
on your skin.
"While we provided the facial mapping technology, working with L'Oréal to ensure what consumers ultimately see in the app -- in terms of color, texture, opacity, shine and overall look -- that was tremendous," said Ron Ryder, the chief executive of Image Metrics.
Surprisingly, when the app becomes available next month, users won't be able to click to purchase the products they try on -- regardless of how awesome the results are. Ecommerce isn't part of the plan just yet.
READ: 11 Makeup Mistakes You Don't Realize You're Making