Hair Care
I Tried an At-Home Brazilian Hair Treatment. Here's What Happened
Could an anti-frizz serum tame the frizzy hair that had plagued me for my entire life?
I have struggled with fine, frizzy and wavy hair since I was about 11 years old. I've tried just about everything to make it behave --from scorching it smooth with wands and irons to frying it with harsh chemical treatments (I'm pretty sure killed a few brain cells in the process).
As I've grown older and wiser, I've learned to look for products that are more hair-health-conscious, and preferably free from formaldehyde and other harsh chemicals. So when I heard about the organic, toxic-free True Brazilian treatment, aimed to smooth out frizzy-haired gals like me, I knew I had to try it.
What It Is
: The True Brazilian Anti-Frizz Hair Treatment, $34.99, is an at-home smoothing serum created by Mauricio Riberio, creator of the original True Brazilian (a chemical straightening treatment that produces straight, smooth hair for months). Thanks to the high demand for healthier, chemical-free straightening options, Riberio decided to create a non-toxic version of his top-selling treatment. The serum's main ingredients, abyssinian seed and meadowfoam seed oils, help moisturize hair and mend damaged ends while adding shine, body and manageability. The serum is worked through wet hair, blow-dried and then flat-ironed in small sections to seal the product into the hair shaft.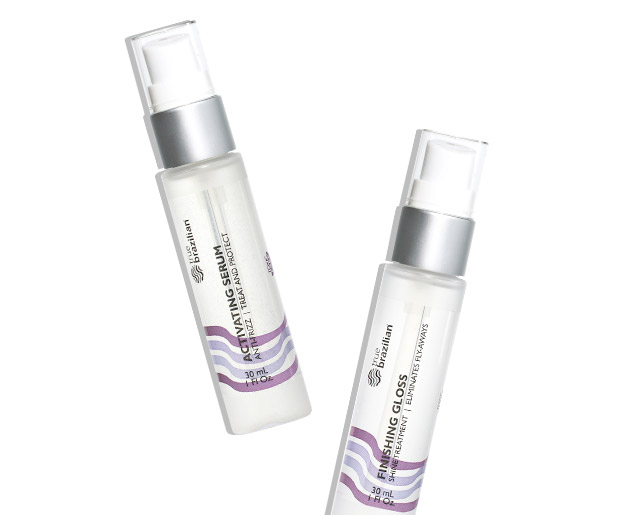 Those who live in L.A. can also visit Mauricio at Cure Salon in West Hollywood, where he'll give you the ultraluxe version of his anti-frizz treatment, $350. It involves two visits scheduled one week apart, and follows a similar protocol to the at-home version. The final step involves sitting under the FDA-approved Sunetics hair laser for 15 minutes to help the serum penetrate even deeper into the hair.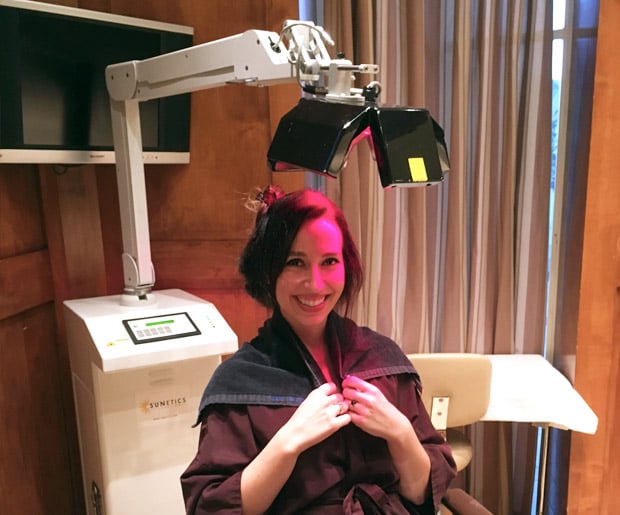 Who It's Best For
: Anyone with frizz-prone hair or extremely damaged ends (ahem, like me.) Like most at-home smoothing treatments, the True Brazilian won't straighten your strands forever. You need hardcore chemicals for that. So those with tight curls or very textured hair looking for a permanent straightening solution may prefer a traditional Brazilian or keratin treatment.
My Experience
: Going into the treatment, my hair was about the frizziest it's been. My long, dark locks were fried due to years of experimenting with color. The treatment was odorless and didn't make my eyes burn like others in the past. I was at the salon for about an hour and a half total, but time flies when you connect with your stylist.
When he finished, my strands were completely straight and shiny. I immediately noticed how soft my hair felt, and was amazed that my split ends were not visible at all. Can I get a hell yes? Mauricio instructed me to avoid washing my hair for two days to help the treatment last longer.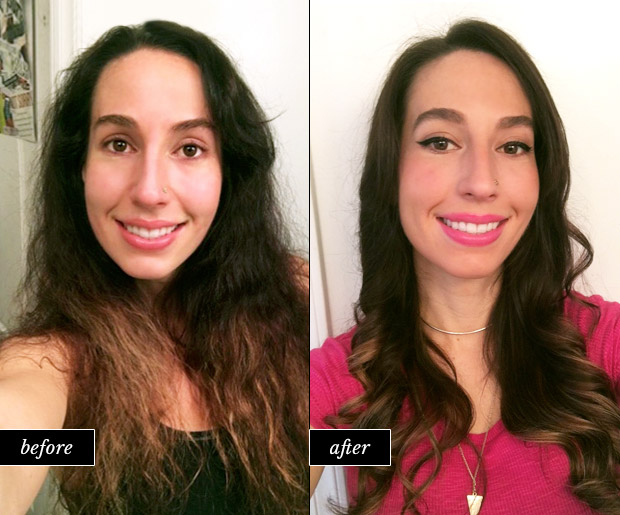 The second in-salon treatment was identical to the first: shampoo, serum, blow-dry, flat iron, and laser. To maintain my results, Mauricio sent me home with a bottle of the True Brazilian activating serum and suggested that I use only gentle, sulfate-free shampoo plus conditioner.
I was doubtful that I'd be able to get the same results at home as Mauricio produced at the salon. But incorporating the serum into my hair routine has been very simple. A small pump of the product makes my blowouts look amazing and like the flat-ironing was done by Mauricio himself.
I even tested the product's anti-frizz claims by the ocean, in a light rain and at a sweaty salsa club (three high-humidity situations that would typically cause a ton of frizz.) I am happy to say that my hair resisted and stayed smooth.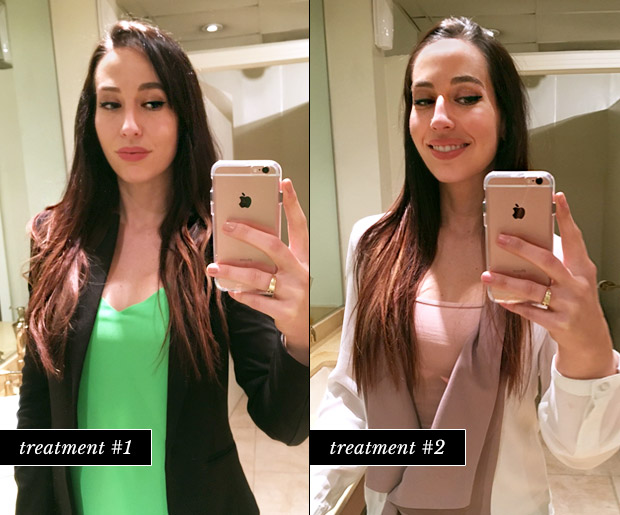 The Takeaway
: Since using True Brazilian, my hair feels much healthier and smoother. I can easily run a comb through my hair right out of the shower and detangle it without leave-in conditioner (a first!). My split ends are still not visible and I don't notice as much breakage when I brush my hair.
What it didn't give me is the wash-and-wear hair I had hoped for -- my natural waves don't look miraculously neater or defined. Still, when I wear it straight or curled with an iron, the style holds much better now than before. It's also softer and shinier.
A miracle hair straightener the True Brazilian is not, but it's definitely an easy-to-use and affordable at-home smoothing treatment that gives me glossy, tangle-free and frizz-free hair -- without any nasty chemicals.