Beauty Tips
CoverGirl Janelle Monáe Isn't Afraid to Fail
When the musician was told she needed to ditch her signature look to sell records, she said no and proved everyone wrong
Janelle Monáe is not your typical music artist. In music videos and on the red carpet, she shuns revealing outfits in favor of her signature tuxedo look; her music is empowering, almost futuristic; and she's not trying to lead anyone to believe she's anywhere near perfect. When I interviewed Monáe at the Ritz Carlton in Marina del Ray, California, she was in her bathrobe still getting her hair styled, but she didn't apologize or seem at all embarrassed to be less than fully done up (although let it be said, her makeup was as flawless as one would expect from a CoverGirl). Along with chatting about her new #GirlsCan video for CoverGirl, Monáe spoke about the importance of being one's genuine self and of breaking barriers.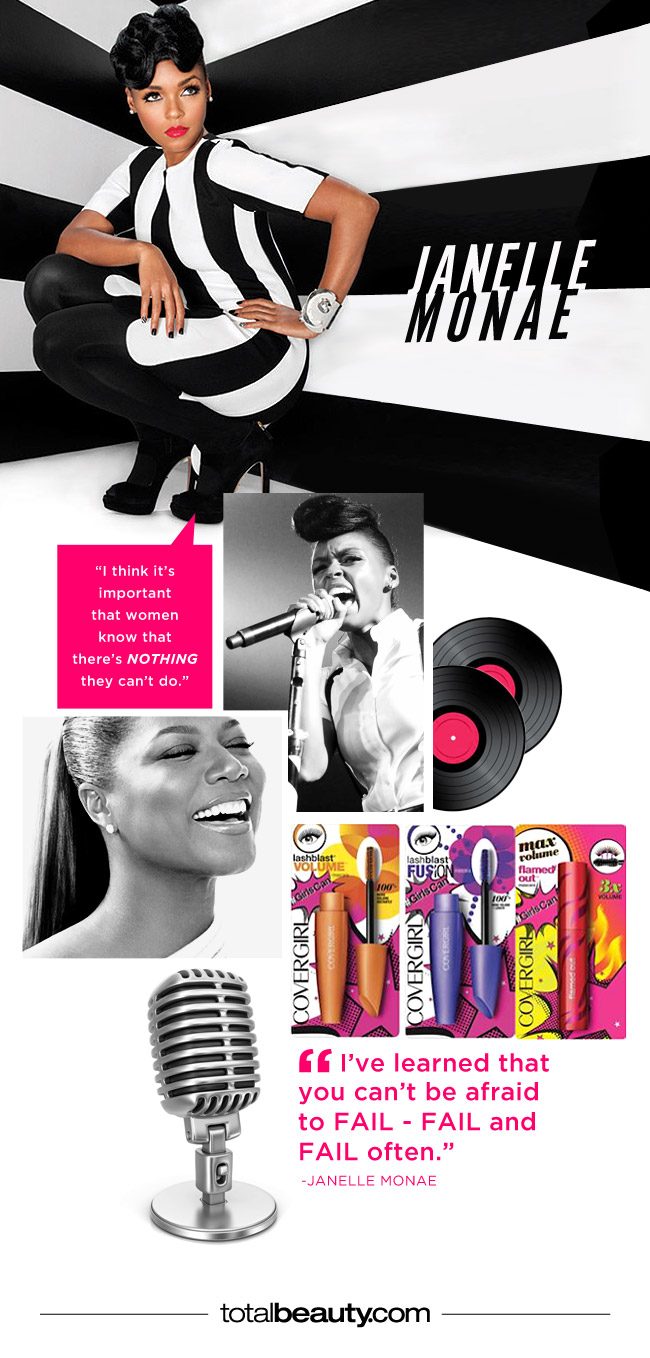 Total Beauty:
Through the #GirlsCan campaign, CoverGirl has partnered with several organizations that empower young women to break boundaries, pledging to donate at least $5 million over the next five years. Tell me a little bit about your personal #GirlsCan video and why you got involved.
Janelle Monáe:
As a CoverGirl, I'm already a part of a very strong line of women from Ellen DeGeneres to Sofia Vergara, Pink to Katy Perry.... I think we all believe in being bold and strong and embracing our uniqueness. The #GirlsCan campaign is meant to really help young girls and women like myself to break barriers and overcome obstacles, and to break into fields in which women are often not accounted for. I think it's important to put yourself out into the world and to let your voice be heard.
TB:
What is something you want women to know they absolutely
can
do?
JM:
I think it's important that women know that there's nothing they can't do. They should practicing dropkicking the "t" off and turning the word into "can." Don't be afraid to try and be the first to do something. Don't be afraid to make mistakes, and continue to embrace the things that make you unique even if it makes others uncomfortable. Just remember that perfection is often the enemy of greatness.
TB:
That's something I've heard you discuss in interviews before. You've said for a long time you were trying to do everything and have it all, and it's only recently you've learned you can't do everything perfectly. What would you say to women who are struggling with the same idea?
JM:
I've learned you can't be afraid to fail -- fail and fail often. That's when you get to the great parts of who you are, and you build your character. Don't focus on being perfect. Be authentic. When it's all said and done, you can say you led a very honest life. It's important to be honest, and let people see your genuine spirit, see you in your down moments and how you overcome those moments. That's what really defines you as a person.
TB:
How have you maintained balance in your own career?
JM:
I think it's important that you ... give your time to what you're most passionate about, so that you can really see your vision through. I've focused on a lot of different things, but now that I really have the hang of it, I was able to launch my recording label, Wondaland Records.
I have a great team of people working on it. It was always my vision, and it's my vision to continue to bring more women on to play a more executive role in nurturing artists and seeing them grow ... I think it's important to know when to dedicate yourself to certain things and when to pull back and let others handle it.
I'm just excited about that chapter of my life -- to be a young, African American, female head of my own record label.
TB:
What are some barriers you faced early on in your career?
JM:
I was born in Kansas City, Kansas, and I was born in one of the poorest counties -- Wyandotte County. Growing up there, my resources were pretty limited, even at school. I always had to work hard. I always had to get a job. My parents were working and I was working. I was helping pay bills. I was getting consumed with grown-up things at such a young age. I was using my money from talent shows to help pay the light bills, just contributing what I could.
Once I got the opportunities to use my talent and go to school, go to Atlanta and perform and sing, I was able to make the most of those opportunities. I knew where I came from, and I knew that I wasn't coming from a privileged background. I started from the bottom, and I have had to work hard. I had to work twice as hard to live comfortably, to pay for my talent show outfits, to pay for a place to live. I was like a starving artist at a very young age, and that really taught me the importance of working hard, perseverance, believing in yourself when nobody believes in you, when you're down, being your own motivation.... and I just learned a lot about life.
TB:
Coming from that background, what does it mean for you to be a CoverGirl now?
JM:
It means possibility. It means influence. It means inspiration. I get the opportunity to say something and to live my life. I'm not perfect. I make mistakes, and I say crazy things and I'll do crazy things, but what I can be is a real model -- someone who's not trying to be perfect, but is using their experiences for young girls to look at and be inspired by. And if they are, just having one or two people looking to my story and being motivated to get off their ass and do what it is they're passionate about doing, is a win.
And it also means being part of this #GirlsCan campaign and encouraging young girls and women across the world to break barriers and to break through in fields where women are underrepresented.
TB:
You've been up against several stereotypes in your field just because of the way you choose to dress. What do you tell women up against similar stereotypes?
JM:
Don't worry about that. My whole reason behind dressing the way I want is the freedom to do so. I think it's important women feel sexy in whatever it is they choose to wear. I choose to dress in different ways, because I think it should be totally up to the woman to remain in control of her body and her wardrobe.
TB:
You have such a great opportunity to be a role model for women everywhere. Who are some of your role models?
JM:
I've come into contact with a lot of inspiring people in different fields and different areas of life, from acting to singing to politics. I love Michelle Obama, I've developed a close relationship with her; Mellody Hobson, she's in the financial field; my mother, who was my first teacher.... she's taught me a lot about myself and what to do and what not to do.
Also, Queen Latifah, who's a CoverGirl. A lot of the CoverGirls inspire me, from Ellen to Pink. I just think they're strong women, and they have been able to give a different perspective in the music and acting fields, to dress different ways and to just be who they are and embrace their unique design.
You can support the #GirlsCan campaign and benefitting organizations, such as Girls Who Code and the Soledad O'Brien + Raymond Starfish Foundation through purchasing specially marked CoverGirl mascaras with the #GirlsCan label. One dollar from each purchase will be donated to charities that empower women to break barriers.