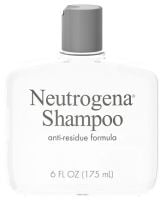 A Must-Use for Every Hair Type!

A fellow teacher came to school on a Monday and her hair was simply STUNNING--soft, smooth, and very shiny. I asked what she did, and she told me that her stylist recommended removing the buildup from shampoos, conditioners, and styling products periodically. She did so over the weekend with a mix of baking soda and water. You can do the same in a much easier manner with Neutrogena's "Anti-Resi...read moredue" Shampoo. Warning, please: This is a strong shampoo, not meant for everyday use (once a week is more than enough). Be forewarned that, like Lush's "Big" Shampoo, any artificial hair color can and probably will be stripped with this. It doesn't lather well, and so you may find yourself using more than usual. I leave it in for several minutes. So why do it? Hair is completely refreshed and revitalized. Volume is greatly restored. Just about every last bit of unwanted, harmful chemicals wash down the drain when you rinse. This is appropriate for all hair types and may help those with oily hair to cut down on the times they need to shampoo. Don't expect silken strands when you're finished shampooing, however. Hair will be squeaky clean, but the shaft has been "disturbed" by the cleansing elements. You may find it necessary to use a deep conditioner to keep from damaging your hair, but you will be grateful you did this in the long run.

Do NOT Use Every Day!

This Neutrogena Anti-Residue Shampoo strips everything out of your hair, good and bad. If you have extreme build up, go for it otherwise stick with a more gentle shampoo for daily use. If you over use this, your hair will become unruly, dry, difficult to brush, and will have extra static.

refreshing

this shampoo is very refreshing and makes the scalp feel very clean. if left on long enough, it can make your scalp tingly. i love it when i want to feel clean after a workout. it really lives up to its claims and cleans out residue. good after not washing hair for a week...

Back
to top