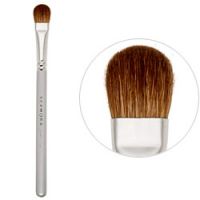 An excellent general-purpose shadow brush

This brush is a staple in my makeup bag. Compared to the prestige brand brushes that live at Sephora, this brush is a bargain. It's soft and easy-to-wield, making it good for makeup beginners and pros who want to give an eyelid a quick but pigmented wash of color.

Love This Brush

This is the first and only eyeshadow brush I've purchased. I've used drugstore eyeshadows my whole life and never had an issue using the sponges that come with the shadow in combination with my fingers or q-tips to smudge and blend. However, after purchasing this brush to apply some Sephora brand eyeshadows I understand why people use these brushes. This brush makes it easier to blend colors and gives me greater control over the application of shadow.

1 brush. That's all I need

I honestly don't even remember getting this brush it is so old I think I got it for free with one of my purchases or something. Still as good as new. It is the only brush I use to do my eye shadow in the morning. I really don't need multiple brushes. This one seems to do all the tricks!

Back
to top