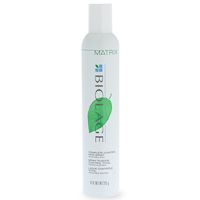 I only use occasionally

but like the product alot.

THIS SPRAY IS AWESOME

Whoever said this was a bad spray obviously did not use it correctly. This natural based spray works to hold without weighing my hair down and I have EXTREMELY fine hair. I have friends that have medium and even coarse hair that absolutely love this spray as well! After all it is BIOLAGE...what is not to love

Holds my styles

I would love to know who did the polling to put this on the worst hair spray list, obviously they haven't had as many experience with as many products as I have. I am curious to know how many votes it took to get on this list. Personally I ABSOLUTELY love this hairspray! It holds my style without being too sticky or wet looking no matter how much I apply. I have very naturally curly hair that I s...read moretraighten and in extremly humid weather this hairspray locks out the humidity and keeps my style looking fresh all day into the night. I have eliminated a lot of my straightening goop, as my husband calls everything I used to use to keep my hair straight all because I started using this product. I love the way it smells too, every where I go people ask me what I use on my hair because it smells so good. To me you don't have enough stars to rate this hair spray..

Back
to top