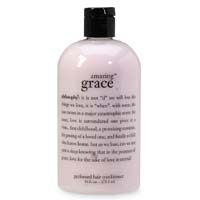 Conditioner

I simply hated this conditioner. Since it was Philosophy, I thought it would be good, but it left my hair tangled and a slick, greasy feel, which was odd. Took it back.

I want to like but,

I love this Philosophy like, LOVE the smell, I wanted to wrap myself up in it, and so I splurged on this conditioner. I would have bought both the shampoo & conditioner, but it was sold out. So I chose this separately. It smells amazing, although once I have dried my hair, I am unable to smell the product. And, although it conditions, lightly... my hair is so full of static, one day I ha...read mored a whole bunch of people laughing at me, my hair was literally, I am not lying! standing straight up! I went into my boss' office to tell her something and she burst out laughing and just handed me a mirror! I had to spray static guard to calm my hair down, and this was late spring! No heat on anywhere. So, take it for what it's worth, consider a small bottle first and see how your hair reacts. Good luck!

Great smell just not great for my hair

I have one of those roller ball perfume applicators in this scent and I love it! For my hair I was a little bit disappointed. I have thicker hair that is mostly wavy/curly and for me it felt like it left a little residue. I will keep buying my little roller ball for my purse. That I recommend for sure.

Back
to top