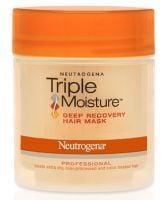 Serious Treatment For Damaged Hair and Frizz

Right now, I am loving Neutrogena's "Triple Moisture" daily shampoo and conditioner. I decided to complete my regimen by using Neutrogena's "Deep Recovery Hair Mask." I can't BELIEVE the change in my hair! It had been overworked and damaged from steroids I have had to take. It broke easily, was lifeless, and had no shine. The high dose of vitamins I take--especially B Vitamins--has helped a g...read morereat deal, but I was still having problems. In the very humid heat of this summer, it takes on a life of its own and becomes a frizzy mess I cannot control. BUT NO LONGER--using this deep conditioner weekly (along with the shampoo and conditioner) has kept my hair like manageable silk. I apply and let it penetrate at least five to ten minutes (it truly coats the hair's cuticle and nourishes). If I have a special occasion for which I want to look stunning, I actually massage it in well and sleep with two shower caps and cover my pillow with a towel (highly attractive, I realize), but the results are worth it. It has a decided sheen now, and the humidity has little effect on it any longer. I don't need styling products to keep it in place; it holds the style I create with virtually no problem. I'm just a tad confused--is this really MY hair?

very moisturizing

this mask is bomb! i love the consistency and creaminess. the formula leaves hair soft and smooth. it smells great and is infused with kertain. totally worth it.

Improvement

My ponytail is dry and coarse, but the top of my hair is soft and shiny. I used it for the first time last week and left it on for 5 minutes, only applying to my pony. My hair is thick but the directions said to use a small amount so I did. I didn't notice much difference but the scent was very nice and it did make my hair tangle free. I then used it again this evening and used twice as much as th...read moree last time, and covered my hair with a shower cap leaving it on for 2 hours. This time I did see more improvement; it was softer and more manageable. I wouldn't consider this a mask or a deep conditioner; however, out of the drugstore brands I have tried this one has yielded the best results. Nevertheless, my quest continues.

Back
to top