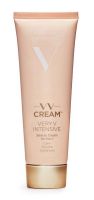 The Perfect V VV Cream Very V Intensive
PERFECT FOR THE DAY OF...

On the day of a waxing or shaving - this has come in very handy on very irritated and aggravated skin. I don't use it every day so it lasts a long time. Only on days where I need a bit of extra moisturizing or the day of or after waxing or shaving. You should try it!