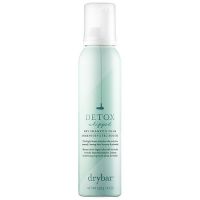 Drybar Detox Whipped Dry Shampoo Foam
As low as
Cool, Smells Amazing, Gets the Job Done

I am a sucker for a lot of Drybar products for the heavenly signature scent alone -- and in that regard, this product is no exception. Even my unwashed hair had that fresh-from-the-blowout-bar smell to it. As far as performance goes, this isn't a bad product. The mousse, once dry, definitely helps absorb/mask oily strands. And it was pretty easy to apply. Though this stuff gets points for innovat...read moreion, I'm just not sure if a foam dry shampoo brings anything to the table that a standard dry shampoo does. I suppose you have more control over where you're applying and can really get up into your scalp, but you also have to get your hands dirty (literally). In sum, I think this is good, cool, but I doubt it'll replace my other go-to dry shampoos.

Difficult to Use

Either this foam dry shampoo is not for me, or it simply does not work. I did not get that oil-absorbing effect I desired, and it left my hair a bit damp after application. I had to keep going back for more product because the foam was not going to the right places, and just ended up being a mess. After waiting for my roots to dry, I was left disappointed with a mediocre "refresh." I'll stick to the sprays...

Back
to top