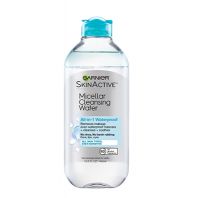 Garnier SkinActive Micellar Cleansing Water All-in-1 Waterproof
Great drug store micellar water

I have used both the waterproof (blue cap) and original (pink cap) version and both of these are fantastic! I use them mostly for face makeup and they do a really good job removing everything and leaving my skin feeling refreshed. The waterproof formula does remove waterproof makeup but I prefer using an oil based cleanser around the eye area so I don't tug/rub the sensitive skin there.

Pretty good product that tries to do a lot

I'll be reviewing the "Mattifying: formula. You get a pretty big bottle (13.5 oz or 400 cc) for a good price (6.50 USD), so this is worth trying for anything trying to simplify their skin care routine. This product does clean and remove non-waterproof makeup pretty well without burning or drying out my oily skin. I use it as a cleanser, but I think it would also make a fantastic toner if you're s...read moreo inclined. It isn't extremely harsh like many toners containing witch hazel or alcohol that tend to aggravate skin. This product also doesn't leave an oily film on my skin--I'm pretty matte for a few hours after using it. Unfortunately, due to its more water-based nature, I find that it has a bit of trouble removing waterproof mascara and eyeliner without considerable rubbing of the eye area. I still had to use a separate oil-based eye makeup remover before using the product for this purpose, but it does help clean up anything the remover left behind.

Back
to top