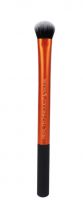 Real Techniques Expert Concealer Brush
Handy Brush; Just Not for Concealer

Though I do think I'll find ways to use this brush (maybe for setting under-eye concealer, applying shadow or strategically placing a highlight), I actually didn't love it with my liquid concealer. I felt like it wasn't more effective than my fingers at buffing and blending. The price seems fair though, at $7.

Nice Concealer Brush

Truthfully, I don't often use a brush to apply concealer, I tend to stick with my fingertips and sponges, but this little brush was nice. It allowed me to paint on my concealer, and really get into the fine lines for the days I skipped primer. The bristles also felt nice against the delicate eye area.

Back
to top