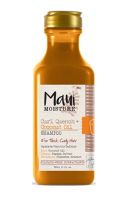 Maui Moisture Curl Quench + Coconut Oil Shampoo
Coconut Oil Quencher

The scent of this rich shampoo is a heady mix of coconut and a day in the Maui sunshine. The thick lather is surprising for a product that boasts it's silicone free. My hair felt clean and moisturized after.

Back
to top