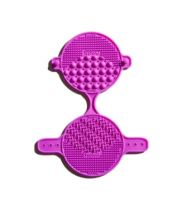 Practk Palmat
Handy, but Not Groundbreaking

This mat is a really handy tool that definitely gets brushes clean, but because of its small shape, it kind of slides around. I think I prefer Sigma's glove or Real Techniques' tray because they stay put a little better.

Useful and Easy

This brush mat gets my makeup brushes clean in under a minute. The textured pattern really works up a lather in the brush head and flushes any makeup residue out. The little suction cups keep the mat in place and make cleaning my brushes a breeze.

Back
to top