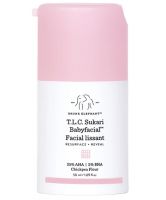 Drunk Elephant T.L.C. Sukari Babyfacial
As low as
Jury's Still Out

I consider this more of a peel/exfoliant than a traditional mask. I wish I had a little more time with this stuff to revisit it. I'd read so many conflicting things about this product, I was a bit timid when it came to testing it and only put a little bit on my face. While it didn't irritate my skin and did seem to smooth it some, I didn't get the dramatic results some people have reported -- and I wonder if that was my fault for not using enough.

Interesting, exfoliating mask

I agree, this feels like an exfoliant more than a mask. It made my skin so smooth and bright after one use. I wish I had more time to use this one. I figure if it exfoliated this nicely after one use, it would probably have better results after several uses.

Back
to top