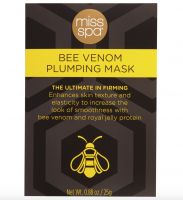 Miss Spa Bee Venom Mask
Hydrating, but no noticeable plumping

The bee venom advertising feels a little gimicky. It's a nicely hydrating mask, but no noticeable plumping. (And do I want my whole face plumped? Probably not.

Adventurous Face Mask

I felt a little daring trying on a mask with Bee Venom! Overall, I did enjoy the sensation of the mask, but I can't say it was anything more special than your typical moisturizing face mask.

Back
to top