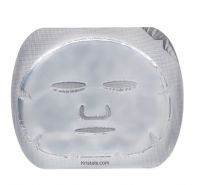 Kristals Cosmetics Diamond Select Anti-Gravity Spark Mask
Holy Twilight Skin

Okay, so this mask is just really fun. The fact that it's $200 is a total turn off, but it does make the experience much more luxurious. The crystal-infused mask holds onto the skin well, and I love the gel-like feel of it. Just be warned, when you remove it you will literally look like someone out of Twilight. My skin was shimmering with crystals, and yes it's pretty, but I wouldn't have gone out looking like that. Didn't notice any changes in my fine lines.

Perfect for firming and hydrating skin

Initially, it was a bit difficult to get the packaging open when I was ready to use this mask. The mask was a little bit too large for certain parts of my face (especially around the chin, lip area), but fit perfectly well on the rest of my face. It feel like if I moved too much it may fall off so I tried to sit still during the treatment. I really enjoyed how when I removed the mask, there was n...read moreo goopy residue leftover. I rubbed in the remainder of the treatment after I took the mask off and my skin felt extremely hydrated and firm. I would definitely use this product again.

Back
to top