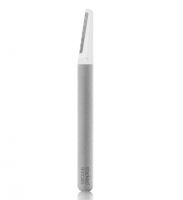 Stacked Skincare Dermaplaning Tool
So satisfying!

This thing is awesome! I had never tried to remove my peach fuzz before -- I normally just pluck the stray hairs whenever I get them. That said, this took some getting used to. The first time I used this blade, I somehow managed to scratch my neck really badly (it looked like an angry cat picked a fight with me!) However, I learned the correct amount of pressure to use and the right direction to g...read moreo in and have had great results. It really does make a nice even canvas to apply your foundation to.

Reveals baby-soft skin

It does reveal super soft skin and remove tufts of peach fuzz so that makeup goes on better than ever. But. That peach fuzz grows back kind of prickly, which I found to be a bummer and a deal breaker.

Exclusively from the editors at Total Beauty

Get the Buying Guide to see these top-rated products!

Get it now »

Bye bye peach fuzz

I have to admit, this was the first time I have ever used a dermaplaning tool at home and I was definitely nervous. I actually watched a tutorial before use to ensure I was doing everything correctly. I did get a lot of peach fuzz off my face, revealing super soft skin! The tool was pretty easy to use, except around my cheekbone area (where I unfortunately cut my face a little bit). I look forward to using this product again, with a little more practice of course!

Back
to top