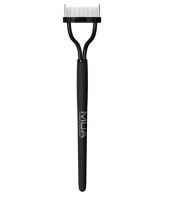 Makeup Academy Lash Separator
Great little tool!

This tool was a bit of a godsend -- with all of the mascaras I've been trying lately (and some have been so clumpy!) This neat little tool with tons of small metal "prongs" gets in and separates clumpy lashes. When you've made up your entire face and your mascara sucks -- this is the last resort before attempting to take it off, without wrecking the rest of your face.

Separates Lashes Nicely

This worked fairly well. I've tried some clumpy mascaras the last couple weeks and this separates lashes nicely with the mini prongs. It is a bit intimidating looking, but it gets you results when you start looking a bit spidery.

Back
to top