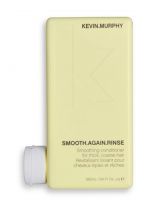 Kevin Murphy Smooth.Again.Rinse
Average Conditioner

I've been using this for a few weeks now. While my hair's still wet, this makes my hair feel smooth and manageable, but once my hair dries, it doesn't seem particularly soft or silky. Just average.

Unisex Conditioner That Leaves Hair Soft and Silky

I adore this shampoo/conditioner set. The smell alone is enough to seduce me, but my hair always feels like silky butter after, too. The price is prohibitive, though -- but the swingy, shampoo commercial hair it gives me might be worth the cost.

Back
to top