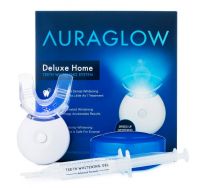 AuraGlow Deluxe Home Teeth Whitening System
Results!

Have tried a variety of tooth whitening solutions and this was perfect. Generic tray was fine and gel wasn't overly gross tasting. Teeth weren't left sensitive at all, and I saw results after just the first time. Surprised by how much gel comes in the container, too.

Cumbersome and ineffective

I didn't see any results. Plus, it required assembly of several parts, it was messy, and it mostly just felt like I was wearing a mouthguard that made me slobber.

Surprised! Excellent Product!

I was skeptical of this system at first, with several working parts (versus your standard Crest White Strips) it seemed a bit too much. I have been pleasantly surprised though! It is a little work setting it up, but the payoff is great! Within just 3 of the 7 to 10 days you are supposed to use the product I already started seeing amazing results. My teeth are shiny white after the full 10 day ...read morerun. And you get enough to do it twice, so if run one doesn't get you the whole way there, you have another syringe of the teeth whitener so you can do it again a month or two later. Love the results!

Back
to top