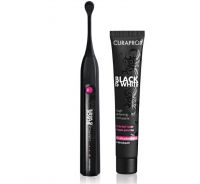 Curaprox Black is White Toothpaste
Seems to whiten, but it's expensive

I have really gone back and forth over this one. It does seem to whiten, but that might just be because my teeth look so much whiter when I use this because it turns them black while in use. I've checked the ingredients and it does have a decent amount of fluoride. My biggest gripe is that it turn my sink black and makes everything look really messy. Also it's $32, which is a bit much for a toothpaste.

Back
to top