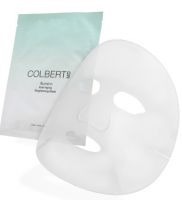 Colbert MD Illumino Anti-Aging Brightening Mask
Best Sheet Mask I've Ever Used

I looooooooove this mask. I usually have a lot of trouble getting sheet masks to fit snuggly on my face but the protective layer on top of this one made it simple. The mask itself is kind of slimy, which sounds bad, but actually feels very good and hydrating. It even have little folds for your eyelids to get in on the fabulous treatment. My skin felt super soft and hydrated afterwards. Just a win all around.

Back
to top