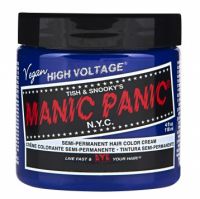 Manic Panic High Voltage Classic Cream Forumla Hair Color
Manic Panic rocks.

I love Manic Panic! While the colour lasts nowhere near as long as Splat does, it is much less messy using Manic Panic and it is faster to dye hair. I like that I don't have to use all the dye at once.

Was not very noticeable

I am not sure if my hair was dark and that is why this was not noticeable. Some areas of my hair were more blue than others, like the gel didn't really grab hold. I think you would need more than this little jar for all of your hair. At least it didn't feel gunky. i may try another lighter color and give it a try.