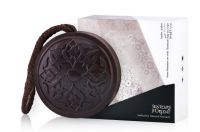 Senteurs D'Orient Hammam Soap
Huge fan of the Ambre

I'm a huge fan of the Ambre soap on a roap - it has a very deep and musky scent which I find very relaxing. Using it is a treat and just leaving it in the bathroom (or any other room) is great too to keep it smelling great! The packaging and story of the brand is really cool too, so it's been a popular gift of mine to give away as well.

Senteurs d'orient is a true gem!

I have the jasmin soap on a roap and it smells amazing! It not only feels great on my skin but it also makes my whole bathroom spell wonderful - a soap and air freshener in one. I'm in love.

Back
to top