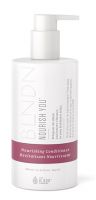 BLNDN Quench You Quenching Conditioner
Good stuff

I really like both this and the matching shampoo. When I heard it was really designed for fine hair I was happy because its tough to find something that works on hair like mine. Great smell, good shine, and a little goes a long way. totally worth the investment.

Weightless Moisture

This product does what it says; it will nourish your hair and won't weight it down. My hair is very thin and prone to damage so it's amazing to find a conditioner that actually performs when it comes to providing moisture without leaving build up causing making my hair look stringy or flat. Instead, my locks are bouncy and beautiful!

Better than the shampoo...

I don't think I could've used the companion shampoo to this conditioner without this product. I found the shampoo pretty dehydrating, so I had to apply generous amounts of this conditioner. It did a good job of countering the shampoo's drying effect but even then, I felt like I had to use too much of the conditioner to get my hair smooth. The scent--of both the shampoo and the conditioner--is amazing part of the reason I continued using each.

Back
to top