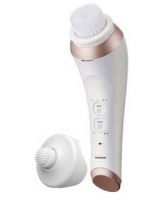 Panasonic Micro-Foaming Facial Cleansing Device
Cool Gadget

I'm on the fence about what to give this. The concept is really cool; the only thing thing I'm a little confused about is the makeup removing side. It felt weird gliding warm makeup remover with the other end of this device. Also, maybe I'm using this wrong but I felt bit of stinging the first two times of trying this out. (Update: use this every morning, and really loving it - minus the makeup removal side),

Great Cleansing Tool

When I first got this product, I will admit that I was a little overwhelmed with all the features. Once I read all the directions, I was excited to see how well this tool performed. The soft brush: provides a gentle cleanse across the entire face with 2 wash settings (easy enough). Putting the cleanser into the back of the tool was a little annoying, especially because I had to use more than I wou...read moreld to wash my face in order for it to foam thru the brush (also some got stuck in the back compartment). The pore-targeting silicone brush provided a nice deep exfoliation AFTER you use the soft-style brush (2 steps here). What I didn't LOVE was the heated makeup remover feature. I don't feel like it did anything exceptional when it came to removing makeup (my wipes work better & took less time). Also, applying the makeup remover to the tool was messy. Overall, cleanses very well but definitely a lot more work to use and don't think all the features are really worth the high price tag.

Back
to top