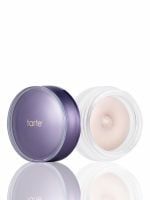 Tarte Timeless Smoothing Primer
Smells delicious....

It's a good thing I got this for 45% off at Ulta with my employee discount. I absolutely love the smell of this and so does my sister and aunts who tried this from me. It reminds me of the Fresh lip balms from Sephora which smells amazing like candy fruity deliciousness that I can't quite describe what it is. I was a little worried that since this primer comes in a jar, it might dry out on me like...read more most primers that comes in a jar would for me. I'm pleasantly surprised it has not dried out at all. It goes on so smooth and creamy and really blurs my pores and fill in my fine lines. I tried it on half of my face and can tell the difference right away. A lot of people commented that this made their makeup cakey which I didn't find too bad on my oily skin. It's not meant to be a mattifying primer but it isn't too crazy hydrating either. I lasted a good five hours with this on before getting oily which isn't too bad. I can see why people reviewed this as being heavy. It can feel a little bit heavy since it is a thicker primer but it wasn't too bad on me. I always look forward to using this because the scent of this makes me so happy for some reason.

Fail

This made my makeup so cakey. When I washed it off and reapplied it was fine. I also don't care for the jar. It made it hard to get the product out to begin with. All around fail.

Back
to top