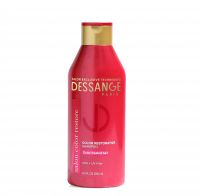 Dessange Paris Salon Color Restore Color Protecting Shampoo
As low as
Happy Results!

Truly liked this product! Great lather and amazing scent, rinsed clean and soft, and a little went a long way! Sexy and musky scent, like that of Argan oils ... scent lingered as I moved my head. Great price ... I hope for the price, this product delivers true color protection.

Okay Shampoo, AWFUL SMELL

The smell of this shampoo was AWFUL. It was cloying, heavy, and too intense. It was like it was trying to be a cheap Chanel perfume knockoff. I used this shampoo and the conditioner and almost gagged the entire time I was in the shower!!! I had to rewash my hair with another brand because the smell kept bothering me all day. And I could overlook that...IF the product was completely fabulous. But it wasn't. It was only subpar to average. Stay away.

Back
to top