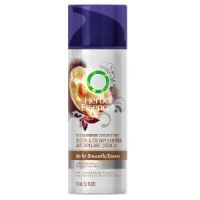 Herbal Essences The Sleeker the Butter Smooth & Creamy Hair Milk
As low as
Just okay...

My hair is thick, slightly dry, and wavy. I have been using a product by Treseme in their smooth line, and frankly, haven't found anything better so I really should just stick with it! LOL But I have been trying other products lately and this was one of them. It's just okay - the biggest challenge that I had with the product is that it has a bit of hold to it which I find somewhat drying. When you...read more have wavy hair or hair on the slightly dryer side, I find that products that claim to smooth but contain an ingredient to create hold at the same time, are just too drying for me. I prefer creating hold with a hairspray when needed for certain styles; not in a day to day smoothing cream. I can't attest to the humidity claims since I have been using this in the winter. It does, however, have a pleasant smell and cute packaging with a pump, which I do like. If your hair isn't on the dry side this may work just fine for you. For me, I just need a bit more moisture.

Works well, despite silly name

In my seemingly never ending search for the perfect frizz fighter I decided to give this a try. The gimmicky name did not really do a whole lot for me, but I have been in a hair product quandry so I decided to give it a whirl. My hair is thick, wavy, frizzy and fine. So I have yet to find any of the shine products that work for me as once I have enough on to kill the frizz I look like I have no...read moret washed my hair in months. This hair milk seems to be the right weight for my hair. It gives my hair some shine and a little bit of hold without weighing it down. You do have to be careful about the amount that you use and making sure it is spread evenly as it can make your hair look dirty if you get too much in one area. The disappointing part of this hair milk is by far and away the smell. It is a strange mix of scents that I cannot quite explain. However the smell does fade once the milk is dry so it is not a deal breaker for me. This also has a slight amount of hold to it. It would not be my choice to replace gel or hairspray but for a touch up or a day after shampoo do, it does seem to keep the work you do with your curling or flat iron in place gently. I find the packaging convenient as it does not squirt out an unreasonable amount at the same time it does not take forty seven pumps to get the desired amount. I find that this is well worth the low price tag and I find that my hair looks shiny and frizz free while not going limp and greasy.

Back
to top