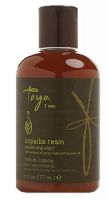 Great Lightweight Product

Having experience with a lot of so-called natural products, I wasn't expecting very much from this one. I was afraid it was going to be sticky, since it says it contains sap (weird, imo), but I went ahead and tried it anyway. I squeezed a dime-size amount into my palm and rubbed my hands together so that it got in between my fingers and all over my hands in a very thin layer. Then I ran my fingers...read more through my damp hair, making sure to get every spot. At first, it had a bit of a gel effect on my wet hair. I was afraid it would dry it out or something. But I went to dry it, still ready to give this stuff a chance. I'm glad I did! My hair became soft, shiny, and full. It had some serious bounce, but it felt like I wasn't using anything at all. That is the mark of a great hair product: that it makes your hair look and feel effortlessly amazing!

Volumizing!

This is great to scrunch through towel dried or dry hair. It gives hair a last boosts of volume without being greasy or weighing it down. I have naturally curly hair and it works great with curls, even curling iron curls. It smells lovely, kind of herbal. Not too strong.

It works! Thicker and soft and bouncy hair! Yay!

I was not familiar with Taya Beauty products, and I'm really glad I tried this- it works! I am Always looking for products that will thicken my very fine, wavy/curly hair, give me more volume, and not add to my "frizz issues", and I try to use natural products for my hair, and this one actually does what it says it will do! What intrigued me was ingredients I'd never tried on my hair before, such ...read moreas copaiba resin, yerba mate, and coconut oil, and it's definitely one of the best hair thickening products I've used (I can't think of a better one), and I will be buying it again. It did give my hair volume, and a soft, natural feel, and it didn't make my hair greasy or heavy or stiff or sticky- and I use way more than a dime-sized amount! I have used it on wet hair, as my "styling" consists of going to bed with wet hair so I wake up with a head full of curls. LOL It has a nice, light "herby" smell that 's quite pleasant, too. Now I'm looking into their other products!

Back
to top